"Bitrix24". Product Editions
There are 7 corporate portals options. They differ in their functionality and capabilities.
There are 4 cloud service rates: "Free", "Plus", "Standard", "Professional" and three versions of the product in the box: "CRM", "Business", "Enterprise".
Free
Free "cloud" service for small business up to 12 employees. The fare includes basic set of tools: company's internal communication, tasks and projects management for joint work with small volume documents, job scheduling, customer and order processing database management and online store order processing CRM.
Users:
unlimited
Cloud backup:
5Gb
0 € / month
Begin
Basic
"Cloud" service for companies up to 24 employees. This tariff for the first time will include some of 12 tools from Bitrix24: "Advanced CRM functions" and "Advanced Telephony".
In near future we are planning to expand Tasks, Calendar and Disk
Users:
unlimited
Cloud backup:
50Gb
61 € / month
Inquire
Standard
"Cloud" service for companies with an unlimited number of employees who are actively working with a large number of documents. CRM integration with "1C" allows activating products' catalogue, price list and information on the trade balance in stock. You can work with projects and tasks together with your partners, suppliers and customers on Extranet. Access to the service is determined in IP addresses and user groups level. You can restrict access from the local network, from mobile phones, from home and even from "open" Internet.
Users:
unlimited
Cloud backup:
100Gb
124 € / month
Inquire
Professional
"Cloud" service to large enterprises, allowing automating internal business processes such as documents management. The rate includes working time recording system, which generates reports on each employee's working hours, depending on the time expenses to fulfill the job. You can automate your meetings and workshops: automatically send invitations, put information about meetings in colleagues' calendars, assign tasks, and mark performance in the minutes.
Users:
unlimited
Cloud backup:
unlimited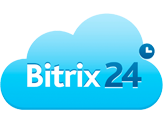 249 € / month
Inquire
Business
"Bitrix24" Self-Hosted version is running on your own server. Editor allows you to independently change portal interface and business logic. There is a possibility to integrate your portal with "1C: UPV", synchronize with Active Directory and maintain a centralized users' and user groups' data management. Using MS Exchange Server 2007/2010 connector, you can synchronize your MS Exchange Server and portal calendars, tasks and contacts. MS SharePoint connector can be used during the mutual integration with your portal.
Users:
50
/100
/250
/500
Cloud backup:
unlimited
2 990 €
4 990 €
8 990 €
14 990 €
Inquire
Enterprise
Full "Bitrix24" version in a box includes all the functionality of the product. Version is designed for companies with multiple branches or holding companies, where is a need to provide each structure with its' business portal, and coordinate company's activities operating in general portal.
Users:
1000
Cloud backup:
unlimited
24 990 €
Inquire
* All shown prices are without VAT.